School of Biological Sciences, Plant Molecular Science and Centre for Systems and Synthetic Biology, Royal Holloway, University of London, Egham, Surrey TW20 0EX, United Kingdom (KG, AV, GLM);
Web: 'The Seed Biology Place' - www.seedbiology.eu
University of Freiburg, Faculty of Biology, Institute for Biology II, Botany/Plant Physiology, D-79104 Freiburg, Germany (KG, AV, ABM, GLM)
Universität Osnabrück, Fachbereich Biologie, Botanik, D-49069 Osnabrück, Germany (KS, KM)

Received December 24, 2012; Accepted Feburary 19, 2013; Published Feburary 20, 2013.
DOI:10.1104/pp.112.213298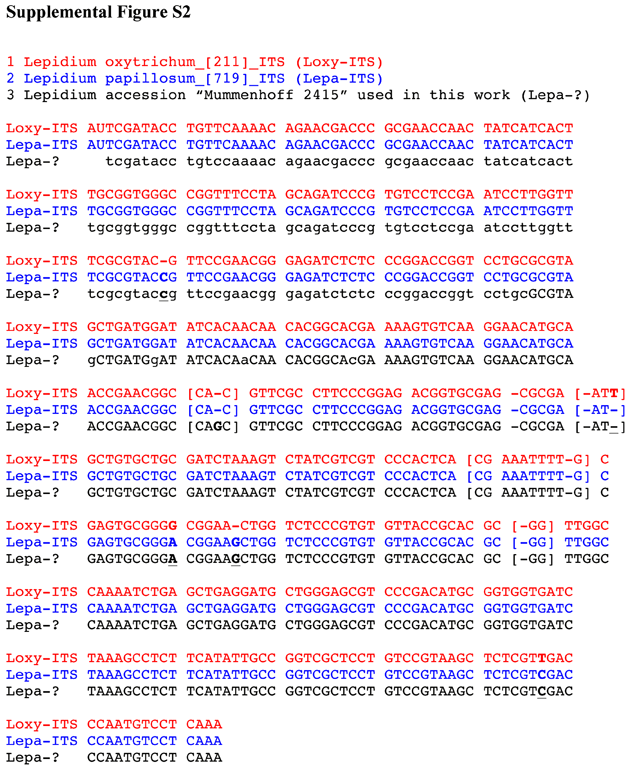 Supplemental Figure S2. ITS sequence comparison between Lepidium oxytrichum, Lepidium papillosum and the Lepidium accession "Mummenhoff 2415" (Lepa-?) used in this work, confirming that this accession is Lepidium papillosum.

Positions in [ ] indicate ambiguous alignment in the total alignment of the genus Lepidium. Small letters mean only one strand was sequenced, capital letters mean both strand were sequenced, positions with sequence differences are in bold, and Lepa-? nucleotide positions identical to the Lepa-ITS are underlined.