Centre for Plant Sciences, Faculty of Biological Sciences, University of Leeds, Leeds LS2 9JT, UK (KL, PK)
Wageningen Seed Lab, Laboratory of Plant Physiology, Wageningen University, Droevendaalsesteeg 1, 6708 PB, Wageningen, The Netherlands (BD, LB)
Department of Molecular Plant Physiology, Utrecht University, 3584 CH Utrecht, The Netherlands (BD, LB)
University of Freiburg, Faculty of Biology, Institute for Biology II, Botany/Plant Physiology, D-79104 Freiburg, Germany (TS*, GLM*)
ARC Centre of Excellence in Plant Cell Walls, School of Botany, University of Melbourne, Parkville, Victoria 3010, Australia (BD, LB)
* Current Address: School of Biological Sciences, Royal Holloway, University of London, Bourne Building 3-30, Egham, Surrey, TW20 0EX, UK

Received July 13, 2012; Accepted September 4, 2012; Published September 6, 2012.
DOI:10.1104/pp.112.203661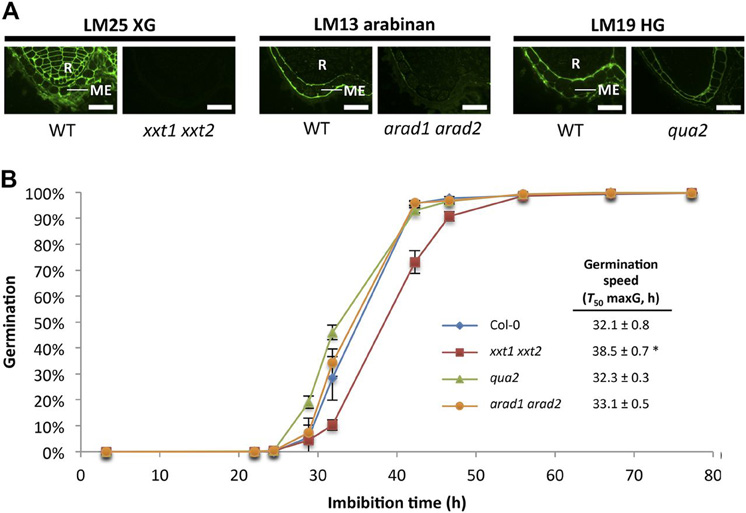 Figure 8. Alterations in seed cell wall structure affect seed dormancy and germination characteristics in Arabidopsis.

A, Immunofluorescence micrographs of cell wall mutants showing alterations in cell wall architecture. xxt1 xxt2 seed cell walls contain no detectable LM25 XG epitope. arad1 arad2 endosperm cell walls contain reduced levels of LM13 arabinan epitope. qua2 seeds contain less LM19 HG epitope. R, Radicle. Bars = 50 mm.

B, Seed germination kinetics were assessed for after-ripened wild-type and mutant seeds. qua2 and arad1 arad2 germination speeds were similar to wild-type seeds. xxt1 xxt2 germinates significantly more slowly than the wild type. Means of germination speeds shown in tabular form.