Book chapter 30, pp. 287-295 in "Seeds: Biology, Development and Ecology" (2007)
Adkins SW, Ashmore SE, Navie SC (eds). CAB International, Wallingford, UK.
8th International Workshop on Seeds, May 2005, Brisbane, Australia


A role for reactive oxygen species in endosperm weakening


Kerstin Müller, Barbara Heß, Gerhard Leubner-Metzger
Institut für Biologie II (Botanik/Pflanzenphysiologie), Albert-Ludwigs-Universität Freiburg, Schänzlestr. 1, D-79104 Freiburg i. Br., Germany, Web: 'The Seed Biology Place' http://www.seedbiology.de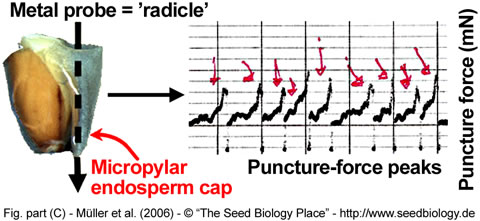 Figure 2. Puncture-force method for measuring endosperm weakening of Lepidium. See also Müller et al. (2006).
(A,B) We used a custom-made machine to measure puncture force. Its main elements are labeled in the pictures. 1 = slide for lowering the metal probe, 2 = strain gauge attached to beam, 3 = centering screws, 4 = connection to recorder.
(C) Dissected Lepidium seed and puncture-force peaks. For the measurements, Lepidium seeds had to be cut in half and the embryo and remnants of testa stuck to the endosperm cap removed, which left the empty but intact endosperm cap into which the metal probe could be lowered.


Based on the oral presentation of Kerstin Müller in Brisbane, May 2005. Awarded as one of the best student presentations.


---
Webdesign Gerhard Leubner 2000
Best viewed with browser version 4 and 800x600 pixel
This page was last updated on 21 March, 2007